It was fun making this resume. I made this resume using this free resume builder www.myresumeformat.com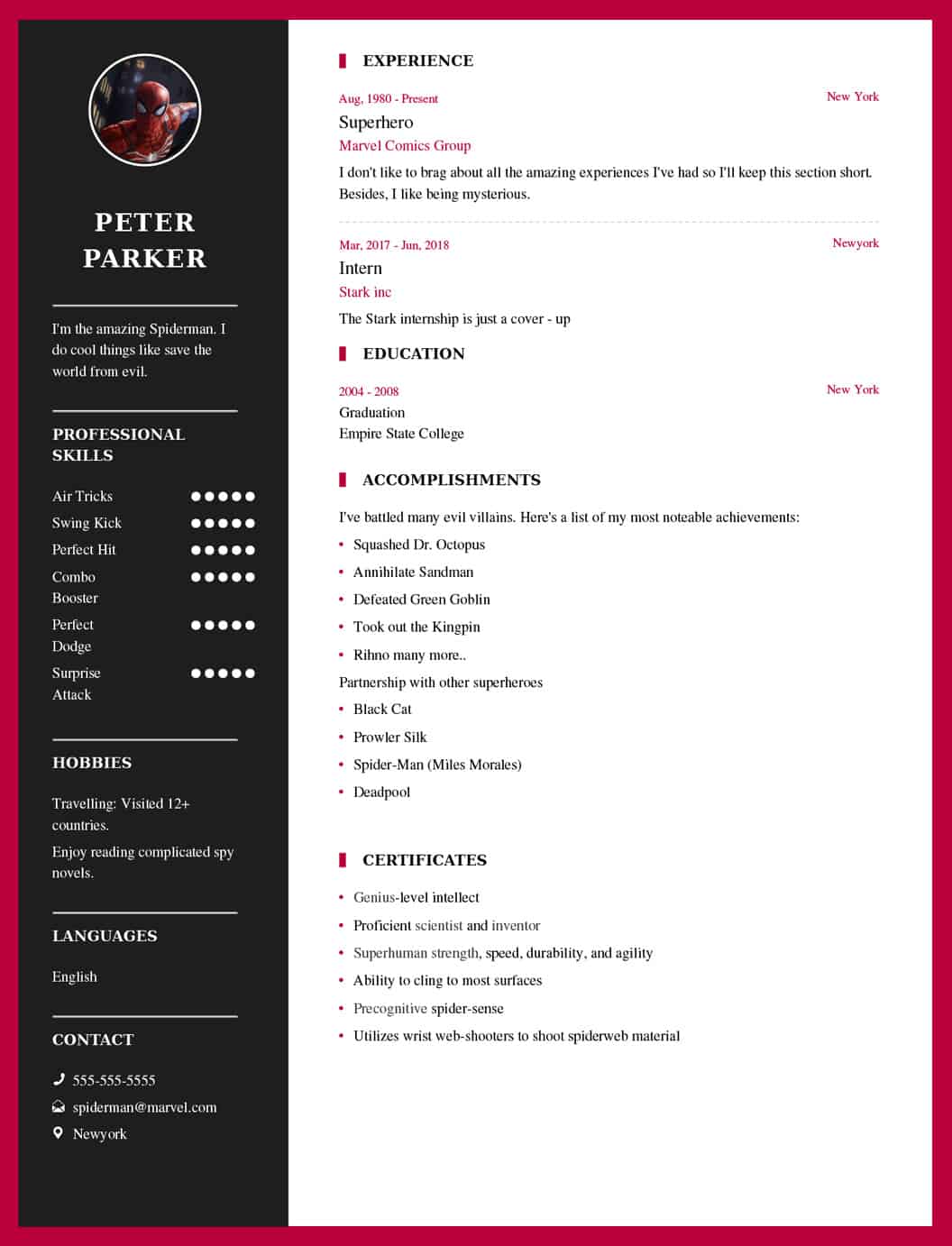 PETER PARKER
---
I'm the amazing Spiderman. I do cool things like save the world from evil.
---
PROFESSIONAL SKILLS
Air Tricks
Swing Kick
Perfect Hit
Combo Booster
Perfect Dodge
Surprise Attack
---
HOBBIES
Travelling: Visited 12+ countries.
Enjoy reading complicated spy novels.
---
LANGUAGES
English
---
CONTACT
555-555-5555
spiderman@marvel.com
EXPERIENCE
Aug, 1980 – Present New York
Superhero
Marvel Comics Group

I don't like to brag about all the amazing experiences I've had so I'll keep this section short. Besides, I like being mysterious.
Mar, 2017 – Jun, 2018 Newyork
Intern
Stark inc

The Stark internship is just a cover – up
EDUCATION
2004 – 2008 New York
Graduation
Empire State College

ACCOMPLISHMENTS
I've battled many evil villains. Here's a list of my most noteable achievements:
Squashed Dr. Octopus
Annihilate Sandman
Defeated Green Goblin
Took out the Kingpin
Rihno many more..
Partnership with other superheroes
Black Cat
Prowler Silk
Spider-Man (Miles Morales)
Deadpool
CERTIFICATES
Genius-level intellect
Proficient scientist and inventor
Superhuman strength, speed, durability, and agility
Ability to cling to most surfaces
Precognitive spider-sense
Utilizes wrist web-shooters to shoot spiderweb material